Snowshoeing Workshops for 2012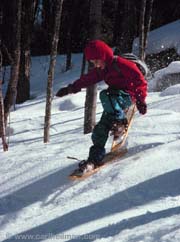 If you are new to the sport of snowshoeing, or would like to hone up your winter skills for more extreme snowshoeing conditions, you might consider joining us on one of our winter workshops. Participants are always enthusiastic and we have a great time no matter what the conditions are!
During the workshops we discuss a variety of topics including snowshoe history, construction, design, and choosing what style of snowshoes and bindings would be best for you. Other topics covered include: dressing for winter, related equipment, winter weather conditions, and winter safety. This background will help everyone venture out in winter safely and more confidently.
The best part though is always the time spent out in the woods learning and practicing snowshoeing techniques on a variety of snowy terrain. While we strive to provide a safe educational experience, the main object of the workshops is FUN and finding out just how enjoyable snowshoeing can be! We hope to see you this winter!
We expect to be leading these same workshops again each winter. As any new dates are confirmed, we'll be adjusting them on our schedule. Please call the phone numbers for each workshop for more information - or click on their names to link to their websites. It's good to call early! The workshops sometimes fill up in late fall or early winter.