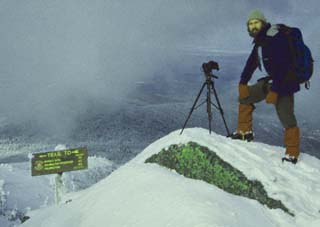 Outdoor photographer Carl Heilman II has lived in the Adirondacks in upstate New York since he moved to the region in 1973 to live in his parents' summer home. He has worked in the region as a carpenter and contractor, and over the years also became well-known for his traditionally hand-crafted snowshoes and his snowshoeing expertise.
Carl has been photographing the wilderness landscape since 1975, working to capture on film both the grandeur of these special places, and the emotional and spiritual connection he has felt as well. His passion for spending as much time as possible in some of the wildest regions of the Adirondacks, soon became a lifelong quest to create images that record the essence of a true wilderness experience, and help convey that feeling to others. Today he is a full time professional outdoor nature photographer.
In addition to publishing many different posters, calendars, and puzzles through their family owned business, Wild Visions, Inc., Carl has also produced several evocative multi-image programs to help create more awareness of the special wilderness qualities of the Adirondack Park.
His first coffee table book, Adirondacks: Views of an American Wilderness was published in June, 1999 by Rizzoli International Publications, Inc. This beautiful 166 page book features both panoramic images and standard format photography to portray some very unique and special views of the Adirondack Park. Since then, he has photographed for 3 books on New York State - Wild New York (2005), Our New York (2006), and Backroads of New York (2007); all with Voyageur Press. He was also selected as one of 39 photographers to be included in The Best of Nature Photography - a photography book that includes images and tips from some of the top Pro photographers in the country.
One of his most popular photography books, The Adirondacks (2006 - Rizzoli) is a mini format coffee table book featuring an all encompassing collection of standard format and panoramic photographs of the Adirondacks. He also photographed for Sandra Weber's, Two in the Wilderness (2005 Boyds Mills Press). His two most recent photography books; Lake George (North Country Books), and The Coast of Maine (Rizzoli), were published in 2009.
Carl's most recent book, Contemporary Landscape Photography, was published in the US by Amphoto, and in the UK by Ilex Press in 2010. This is Carl's first book about the craft of photography and encompasses tips and techniques on everything from selecting and setting up camera equipment, to tips on techniques on lighting, composition, and digital imaging. He is currently working on a field guide for landscpe photographers that is planned for a fall 2011 pub date.
Carl has been interviewed and featured in several TV programs for PBS and regional programming. These include, People Near Here (WCFE), Adirondack Outdoors (WCFE), Adirondack Living (Adk Living Show TV), Four Seasons (WNCE), and The Adirondacks (PBS / WNED). Carl was interviewed as the featured nature photographer for the 2 hour program - The Adirondacks. This all encompassing PBS special was produced by Emmy award winning Tom Simon of Working Dog Productoions for WNED in Buffalo.
Carl works with all 35 mm equipment to stay as portable as possible for traveling deep into the mountain backcountry. He uses a variety of Nikon lenses for his Nikon cameras, ranging from a 10.5 mm fisheye for his D300 and D300S, to an 70-200 mm 2.8G VR zoom and 2x teleconverter. In 1996 he became involved in panoramic photography and bought a Noblex 135U panoramic camera which uses a rotating drum lens to photograph 138° wide panoramas.
In early 1998, he also invested in a Roundshot Super 35 panoramic camera which utilizes his Nikon lenses and high quality glass Singh-Ray filters. This state-of-the-art computerized camera has a rotating head and will photograph any preprogrammed angle panorama, including multiple rotations of 360º. This camera provides complete versatility for all of the panoramic work Carl does outdoors.

During the winter of 1997-98, Carl set up a digital 'darkroom' to produce Fine Art prints and panoramas for individuals and galleries. Digital imaging with Photoshop has given him the freedom to produce prints to his exacting color and tonal requirements. Highlights and shadows are both reproduced with same rich detail that was in the original scene.
Carl's photographs have been published regionally and nationally in books, magazines, and calendars, and he has had numerous photography exhibitions throughout the upstate NY region. Current exhibition dates are listed on his calendar page. He has won awards both regionally and nationally for his calendar photography and also received an Individual Artistic Award from the Adirondack Park Centennial Committee In fall 2001, he also received an Adirondack Heriatge award from the Association for the Protection of the Adirondacks for his work with photography.
Several of his photographs have been reproduced as large wall murals in the exhibit, The Peopled Wilderness, in the Map Room of the Main Building at the Adirondack Museum in Blue Mtn. Lake. His murals have also been in various exhibits and displays including the NYS Museum, the Northway High Peaks Information Centers, the Adirondack Park Visitors' Interpretive Centers, and James Madison's Montpelier home exhibition on the Lewis and Clark Centennial. A gallery exhibition of Carl's Lake George photos and a 4 feet by 40 feet mural of Lake George can be viewed at the Lake George Forum. His nature photography is featured throughout the new Wild Center in Tupper Lake where you can also see one of his latest AV productions - 'The Wild Adirondacks: A Timeless Experience' - on a 50 feet wide panoramic screen. His most recent program, 'I Am the Adirondacks', was produced for the new Old Forge Arts and Sciences building. Both of these programs are available on DVD.
His photographs and panoramas are also available as posters, murals, and special edition prints. His selection of Adirondack posters includes a pair of panoramic posters that show the full 360° view from the summit of Mt. Marcy, and a panoramic image of the spectacular fall foliage and the High Peaks from Mt. Van Hoevenberg. He has also published a panoramic poster of Lake Winnipesaukee in New Hampshire. Carl's work can be found on the walls of many different galleries, in museum displays, and private collections. His spectacular panorama of the Albany skyline panorama was produced in the fall of 2003.
Carl's photography is available for license as stock photography directly through the family owned business, Wild Visions, Inc. and also through Panoramic Images. He is also working with Eric Seplowitz of Captured Light Photography for corporate and business art uses. His daughter, Greta is producing photographic coffee and travel mugs with Carl's images through Mountain Mugs in Brant Lake. His images are also reproduced on ceramic tiles by Tim Sauter of Wallstyles in Ballston Spa.
Please browse through our pages of free computer desktop wallpaper photos and our panoramic screensavers. There are Adirondack panoramas and photos, Lake George photos and panoramas, Montana pictures, and photography from Acadia National Park, Mount Washington, Lake Winnipesaukee, and the Badlands.
Each winter, as a NYS licensed guide, he leads backcountry snowshoeing workshops at the Mountainfest in Keene Valley, and has lead them for the Adirondack Mountain Club at the Adirondak Loj near Lake Placid, and for the Appalachian Mountain Club at Pinkham Notch, NH. He has also traveled across the country to do workshops and clinics on snowshoes and snowshoeing - and photograph the natural landscape wherever he goes.
Carl also enjoys leading groups out in the field for nature photography workshops. These have been well received and attended by folks from all across North America. Carl's daughter and Photoshop expert, Greta, presents Photoshop for Photographers digital darkroom workshops. These intensive Photoshop workshops encompass the complete procedure of imaging film from scanning to Photoshop work and printing. For more information, please Contact Us by mail or phone.

When Carl is not in the office or the garden, or traveling to another wilderness region, he can be found in summer paddling the wild Adirondack waters in his lightweight Hornbeck canoe, and in winter, snowshoeing or skiing his favorite Adirondack mountains.