What is Digital Imaging?
In it's simplest terms, digital imaging is the production of photographic images with a computer, digital camera or scanner, and printer. Color or black-and-white prints, film (negatives), and transparencies (slides), can be scanned with various scanners and transferred to digital files. Digital files can then be manipulated on the computer using the traditional methods of applying color correction, burning and dodging, and adjusting contrast and exposure.
With digital imaging it's also possible to change an image almost any way imaginable by applying some of the many special effects such as distortion, morphing, sharpening, blurring, brush or drawing effects, 3D options, cut-and-paste, compositing and adding text. Final images can then be output to either a monitor or a printer.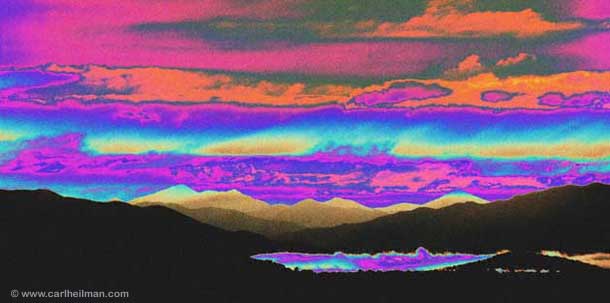 Digital Imaging Equipment Requirements
As computer technology has advanced by leaps and bounds, it has become more feasible to do digital imaging in a small business or at home. Requirements are a high resolution film scanner for film (at least 2700 dpi optical resolution - 4000 dpi preferable), a computer (PC or Mac) with a fast processor (2 GHz dual core processor or better), as much RAM as possible (2 GB minimum), a good photo imaging software package, and a photo quality printer.
At home we're scanning 35 mm format transparencies with Nikon Super CoolScan 8000 and 9000 scanners. They have 4000 dpi optical resolution and can capture all of the contrasts and tonal variations of the original film. We work with a variety of computers - a couple that are specifically designed for digital imaging. Our latest features a quad core Xeon processor, 8 GB of RAM, and a pair of 750 GB hard drives for storage. We use this for most all of our graphics work, AV work, and Photoshop work. There are also another half dozen computers here in the office for various other purposes.
We're using Photoshop CS3 for imaging software, and all of our images are printed on a 6 color Epson Stylus Photo 7600 printer for archival photo-quality fine art prints up to 24" wide by 50' long. We're working with ColorVision color calibration software for the monitor and the Epson printer profiles so we can accurately reproduce the color we see on the screen.