'Perfect Pictures Every Time' 1 Day Fall Nature Photography Workshop
- Digital and Film Photography - with the emphasis on Digital Technology-
- 1 Day Nature Photography Workshop from
11 AM to 7 PM
-
$170. up to 30 days ahead, then $190.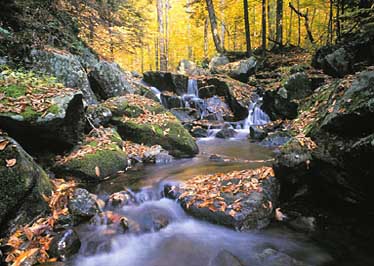 While each season in the Adirondacks has its own special qualities, none are quite so spectacular as the colors of the trees in the Adirondacks in fall. Most years the peak of color in the Brant Lake area has been around the 5th - 7th of October. However, during some of the past few years, the height of color has been arriving closer to Columbus Day. This is all weather releated of course, but with both the higher elevation conditions in the High Peaks region, and lower elevation terrain like Lake George not far away, it will be easy to get to places where the colors are prime.

Our Comprehensive One Day Adirondack Photography Workshops for beginner to intermediate photographers feature instruction on many facets of digital and film photography including - camera basics, digital camera features and menus, RAW files, digital workflow, lenses, depth of field, composition, lighting, and various photo techniques. The 8 hour day features about 3 - 4 hours of Powerpoint and instruction, Q & A, and image critique in our Brant Lake office - and then several hours of photography at nearby photo locations practicing camera techniques and photography principles. Please note for anyone with allergies occasionally there is a cat in the house - we do clean thoroughly before a workshop

During the afternoon and evening photo shoots there will potentially be considerable diversity in the lighting conditions. We'll be working with whatever the lighting is that day to decide both when, where - and the types of scenes we'll be photographing. We may be doing close-up or telephoto photography, as well as photographing wide angle and panoramic landscape views. In cloudy or rainy conditions, we might work along the edge of a pond or lake, or photograph somewhere in the woods along a stream or waterfall. If the early evening conditions work out for the colors of sunset, we'll be sure to set up to photograph the sunset at a nice location. In addition to working with traditional format photography and techniques, we can also discuss equipment and techniques for photographing panoramas using panoramic equipment - as well as photographing a scene for digitally stitched panoramic images.

This photo workshop is rated 'easy'. Most of the potential photography locations are either fairly close to a road, or within a short walking distance of a trailhead. There may be some ups and downs to the walking, so it is a good idea to have a pack that comfortably accomodates both camera gear and outdoor gear while walking in these conditions. Please see the equipment list for suggestions of things to bring.

I enjoy working with all levels of photographers - with a maximum of 6 in the workshop it works out for both general instruction as well as being able to give individual attention. I began working with a digital SLR in spring 2007 and explore all the additional options that digital cameras provide as well as the basic features of traditional 35mm SLR cameras. No matter which format you use, a sturdy tripod is really necessary for working with composition and slow shutter speed techniques.

Please bring whatever food you might want for the afternoon and evening. We will most likely travel to at least a couple of different photo locations.

Sunset is about 6:30 PM. The best color in the clouds can often be about 10 to 20 minutes after actual sunset, so we might be photographing until after sunset, and then heading back to the car in evening twilight. Please bring along a flashlight or headlamp (preferable).

The 'Equipment List' in the link below is designed for equipment suggestions for our field photography workshops. If you have any specific questions or need more information, please Email us or contact us by mail or phone.